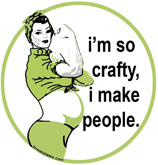 https://hackermoms.org/

In 2011, ten misfit moms (artists, writers, entrepreneurs, designers, makers, educators, professionals), our kids and a hired babysitter met in each other's homes for nine months before we got up the nerve to open our non-profit space. These moms shared certain alternative qualities: a mind for ideas, a "make-or-die" hunger to create, a boredom with the usual moms groups, and the recognition that motherhood has a dark side. Love is abundant, but life with young kids can be an isolating and fractured existence. We wanted a way to balance that.

We had connections to hackerspaces in the San Francisco Bay Area. We respected the collaborative, open-source culture and values, and loved the renegade idea of hacking an object or idea to modify it your way, be it furniture, a computer program or a recipe. The concept fit what we wanted to achieve: We hacked a hackerspace to fit mothers.

After a few fundraisers, we raised enough money for a down payment on a light-filled, 1,000-square-foot storefront on the Oakland-Berkeley border. We opened our doors in April 2012 – and nothing else like it exists in the world today.