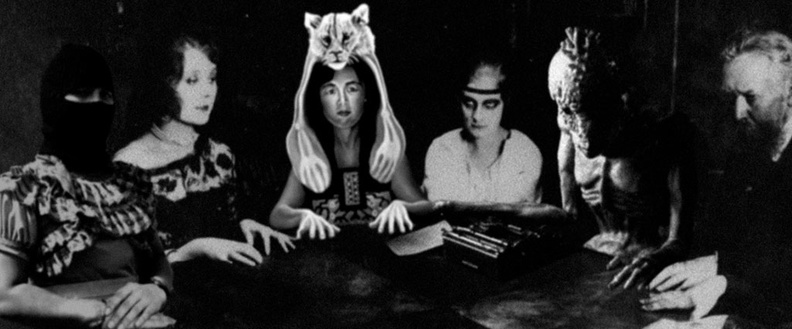 https://frama.link/futurotopies

In the context of Rencontres BANDITS-MAGES invites you to participate in a Workshop on speculative writing of feminist technologies and collective sound narrative proposed by r∆∆dio c∆∆rgo and Spideralex from 12 to 16 November 2018 in Bourges

A workshop to reclaim our relationships with techniques and technologies, to subvert these techniques, to blur genders and blow up codes and rules: to interlock emerging worlds with appealing futures

What kind of fantasies do we have for feminist, relevant, ancestral, sovereign, autonomous, liberating and anti-capitalist techniques and technologies?

What would those technologies look like? Of what would it be made and for what purpose? Who would build, maintain and recycle those technologies? In which ecosystem would it make sense?

Along the four days of workshop, our workplace will turn into a time travel space machine, we will no longer be submitted to physical, time and space laws. Together we will create tales and speculative fabulations that will focus, as soon as they will be told or thought, on changing the world. We will experiment at the crossroad of cyberfeminism and ecofeminism, through different methodologies and forms in order to create stories and tales that allow us to take back control of techniques and technologies we want to see bloom andspread.

In parallel of writing stories we will also focus on how to tell those stories through sound textures, verbal and non-verbal, made during the week. Daily practice of "group tuning" (relaxation , vocal warm-ups and breathing exercices, collective listening, story-telling) will be part of our work in order to build a common imaginary world specific to ourgroup.

This workshop is a collective experience, a gathering to summon the magic of words and sounds letting the fantasies they hold instill our commun memory, our presents and our futures.

The restitution of the workshop could be a radio show as a feminist technology transmitting to the world a performed summoning of the fresh made technologies to produce a cyborg rêverie through the stream.

Made of tales and fabulations invented during the week, broadcasted or performed on air, this radio show would be like a novels and poems collection, a grimoire of liberating spells, a manual for a libidinous uses oftechnologies.